Ever heard of a planet which is huge enough to contain 750 earths,yet light enough to float on water?That is Saturn for you--the second largest & also the lightest planet in the solar system.It has also been rated as one of the most beautiful bodies out there.It is ten times farther from sun than earth,the sixth planet from there,but it can be seen with naked eye--the last planet to have that distinction.In fact at certain points it can even outshine most of the stars in sky with it's yellow light ( Uranus & occasionally 4 Vesta are visible in very dark night sky too ).
It is a gas giant composed mainly of hydrogen gas.A heavy atmosphere of this gas around it, liquefies the gas,so that a huge ocean of liquid hydrogen which is thousands of miles deep, covers the planet.The weight of this ocean transforms hydrogen into liquid metal,which in turn,encompasses a hard rocky core at least as big as earth.The metallic elements create a strong magnetic force which extends up to millions of miles in space.
The temperature at the top of Saturn's atmosphere is -300*F & the clouds there are made up of frozen gas crystals.Beneath them are moist clouds resembling those on earth.The heat below the atmosphere goes up to 10,000*F which is strange considering that Saturn is so far away from sun.But this heat comes from it's core rather than from sun.At the core the temperature climbs up to 12,000*F.The weather on Saturn is not at all hospitable.There are fierce winds zooming at a speed of up to 1100mph,rowdy storms & lightening too.Below is a view of the hexagonal vortex at Saturn's north pole,spinning like mad----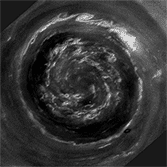 Saturn travels through space with a family of 62 moons which are composed of water & ice.It also has a magnificent system of rings whizzing around it's equator at high speed.These rings consist of small dust particles and bigger icy lumps.These rings are very thin but wide.They reflect sunlight brilliantly.
Saturn spins in about ten and a half hours at an equatorial speed of 35,500km/h; but takes nearly thirty years to orbit sun at an average speed of 21,687mp/h. It is tilted at the axis & has seasons like earth.Since it's year is so long,each season lasts for seven & a half years. Ain't we glad that our winters & hot summers are much shorter?Imagine bearing the brunt of any season for so long!
Moving on to astrology,Saturn is the ruling planet of Capricorn .It affects the person's ambition,career,duty & discipline.It is considered malefic-it leads to contraction of the sector in which it is placed.
Text courtesy Robin Kerrod
Images from google.